Agribusiness and Financial trading platform
A self-management platform that allows clients to trade in real time.
The Challenge
Develop technology to grow the business
The company had a legacy working method based on manual data entry and manual trading that limited the business growth both in the number of daily transactions and the geographic scope. The information was decentralized in different systems, and we had to make a new service layer to interpret and unify the information to have it ready to be used.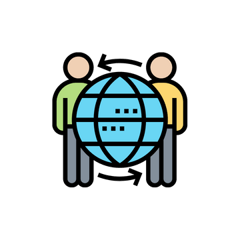 The Solution
Software development from scratch.
We built a self-management platform that allows clients to trade in real time and access all the financial and agricultural products and instruments the company markets.
We joined the LBO team with the roles of Software Architect, DevOps, Product Owner, Data Analyst, Full Stack Engineer, Front End Engineer, and QA automation engineer.
We developed the web application based on a microservices architecture built on top of an on-premise cloud service, using RabbitMQ as a message-broker software and combined continuous integration practices (CI/CD).
Regarding technologies, we implemented NODEJS, Python, and Golang in the backend and Angular in the front end. We used PostgreSQL as the database and drove the integration to thirty-party systems both by APIs or doing reverse engineering of legacy systems. Additionally, we used a DevOps stack that included Docker, Grafana, and ElasticSearch. We used MySQL as a database, web services SOAP, sockets, and APIs rest.
The outcome
Increase of trades by 400% in 4 months.
We deployed the first MVP to a production environment within 4 months and never stopped evolving the platform, since It has augmented the number of trades by 400%, having a direct positive impact on revenue.

The client owns now a service layer aiming to provide middleware. This new technological ecosystem allows LBO to build applications with high added value for its internal and external customers. Dashboards and new backoffices have been built for the operational area and for external representatives in a white label mode. The time to launch new releases has been drastically reduced and now they can quickly take advantage of market opportunities.
Testimonials
Read what users say about the platform.

"I would highlight the seniority of their team, the speed with which they built the team, and the low turnover of their people. They were really committed to our project as if it were theirs. The Inisoft team is our team."
Fabricio Silvestri, CEO at LBO.
Looking for world class software development?
Our 20 years of experience in the tech industry allows us to recognize how innovative architectures and frameworks can help expand teams.
We use proven technologies that deliver results while incorporating the best practices and latest trends in the industry.