A composable platform to offer good experiences to your customers, from content to ecommerce
Do you need help with expanding your Sitecore software development team? Read why Inisoft is the right choice for you!
Sitecore Digital Experience Platform (DXP) is a comprehensive solution for providing cutting-edge, seamless digital experiences across several channels. It's the ideal cloud platform for businesses who need access to cutting-edge capabilities like multi-site administration, omnichannel support, multilingual content, brand experiences, commercial operations, and others.
Below are the Sitecore composable modules:
Focuses on email and marketing automation
Sitecore CDP and Sitecore Personalise
Focuses on personalisation and A/B testing with customer data available to drive that personalisation
Focuses on online commerce
Focuses on search capabilities
Focuses on content generation, media storage and digital rights management as well as content creation workflow
Our expertise with
Sitecore
is vital in our
team augmentation

process
Thanks to our 20+ years of experience in the tech industry, we can recognize the potential of new software platforms.
We bring you Node.js's developer experience, identifying its advantages when helping companies expand their teams.
What are the

benefits

of implementing Sitecore?
Sitecore development offers a great and an improved experience for the developers and this allows them to spend less time in making minor changes, which counts as a major advantage.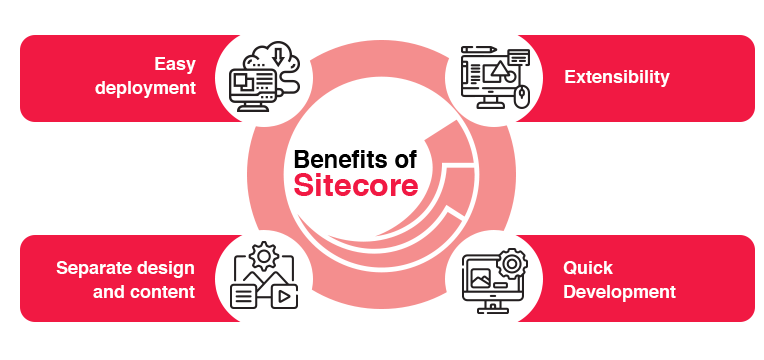 Easy deployment

It enables developers to deploy and manage unlimited code across various sites in an instance
Extensibility
The addition of latest features, plugins and extensions to the existing software or adding a new site is very easy and cost effective
Separate design and content

By allowing content management and content delivery, developers can separate the facilities into distinct environments leading to easy scalability, security, administration and performance
Quick development

The CMS increases speed and reduces errors. Developers can use debugging tools and code completion enhancements.
Let's talk about more benefits to expand your software development team.
Sitecore can help solve your

business needs
By building your website with its "mix and match" feature set, your business's growth can be helped by lower maintenance costs, efficient development cycles, greater flexibility, and speed to market, and so hopefully more conversions.
You know you need Sitecore if you have a few of the following requirements:
Manage multiple domains

Minimize technical debt and ease maintenance by using a common codebase for all of your websites

Integrate APIs and other third-party systems such as CRM, marketing automation, A/B testing, ecommerce, PIM, DAM, and more

Nurture customer relationships based on their click behavior or geo-location

Localize content with country-specific photography and currency



Follow information security best practices to comply with federal and state accessibility and data privacy laws such as ADA, GDPR, CCPA, PCI, and HIPAA





Strict governance over content styling.

A permissioning system that allows you to restrict content editors to certain sites, sections, or editing capabilities.

A platform with robust workflow capabilities.
At Inisoft we've been working with Sitecore for over several years. We were responsible for recruiting and training developers of Sitecore that can help to augment your software development team.
Why work with Inisoft?
You'll stop wasting your time looking for the right team. Inisoft's React Native team is ready to start working on your project right away
There's no recruiting fee. All we need is to know what you need and we'll get to work
Our 20 years of experience makes us the best option to solve your team augmentation needs ensuring a low failure rate
You'll meet qualified candidates who have already gone through our selection process guaranteeing their skills
Frequently Asked Questions
How fast can you find the best software engineer for my project?
Inisoft will present you with the first candidates within the first 72 hours.
Is LATAM an option for recruiting IT professionals?
Latin America is a great source for recruiting IT professionals for your team. In this region, you can find skilled technical talent in many areas due to their high level of education.
Do we need team augmentation?
If you have a sudden increase in workload because of a new client, you had a very successful product launch, or you don't have enough office space or more budget to hire more people, you can expand your team almost immediately. Team augmentation will allow you to take care of the new tasks that need to be done.
Is Inisoft's model right for me?
If you are in a hurry to assemble your team of programmers, we will take care of the process for you. Within 72 hours, you will be presented with pre-screened candidates without a recruiting fee and with a low failure rate. This model is perfect for you if you don't want to waste your time recruiting.
Hire Sitecore Developers developers in 3 steps

Let's talk
We'll discuss your technical needs, requirements, goals, and team dynamics to find the right React Native developers to add to your workforce.

Review candidates
We present you with the pre-vetted candidates that match your company's culture and that will help you boost your projects.

Get to work
Choose the software engineer that matches your criteria and get to work!