Golang

offers a quick production pace, it's trustworthy and efficient
Do you need help with expanding your Golang software development team? Read why Inisoft is the right choice for you!


Why use

Golang

in your start-up?
Go language, also known as Go or Golang has become a popular choice among tech companies because of its simple syntax, readability, and performance in production.
Since the inclusion of Golang within our wide array of known programming languages we've identified how helpful it can be for small and big companies. Also, scalability and cost-effectiveness are priceless for a start-up.
Expand your Golang software engineering team
with the best talent.
Why is Golang better for Microservices?
The widespread adoption of microservices pushes the software industry to adopt more programming languages that can efficiently handle smaller chunks of code.
Golang is popular for its concurrency and API support in terms of microservices architecture. With Go's concurrency possibility, you can expect increased productivity of various machines and cores. It includes a powerful standard for developing web services.
Our expertise with
Golang
is vital in our
team augmentation

process
Our 20 years of experience in the tech industry allows us to recognize the potential of new programming languages. With that in mind, we decided to take a deep dive and immerse ourselves in Golang's world identifying its advantages when helping companies expand their teams.
The Golang vs Node.js question
When it comes to web development, Node.js is a popular choice. Even though Golang and Node are still growing backend technologies in 2022, these are some of the advantages Golang has over Node.js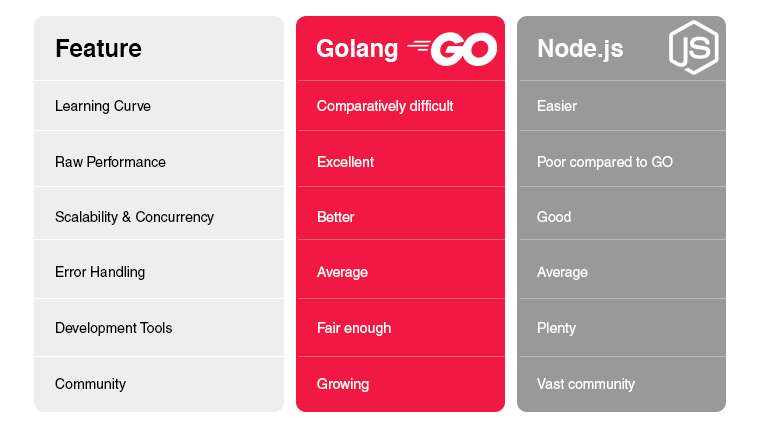 Why is Golang not popular?
It's relatively a new programming language. However, it has proven to be effective a scalable.
Experienced software engineers might feel uninterested because of its simplicity and readability. On the other hand, its array of integrated libraries makes the learning curve intuitive.
Its community is much smaller than that of other languages, but it keeps growing each day.
As a tech start-up, your company might need to invest in training software engineers in Golang.
However, you can avoid this time-consuming and expensive process by working with us as your team augmentation service provider and our qualified Go software engineers.
Inisoft offers a time-efficient and qualitative solution. Learn more about it in a free strategy session.
5 reasons

why your company should use Golang
When it comes to web development, Node.js is a popular choice. Even though Golang and Node are still growing backend technologies in 2022, these are some of the advantages Golang has over Node.js
1
It's open source and free to use, making it a cost-effective solution
2

It has great scalability and can be used in distributed environments
3
Golang offers simple async programming
4
There's no need to refer to various libraries and tools for performing tasks because they're already included in Go by default
5
Inisoft has extensive experience in the programming language making us quick when putting teams together
We believe that these reasons are more than enough for Go to continue growing in the industry. At Inisoft we are always ready to support companies in their team augmentation journey with our pre-vetted Golang software engineers.
Why work with Inisoft?
You'll stop wasting your time looking for the right team. Inisoft's React Native team is ready to start working on your project right away
There's no recruiting fee. All we need is to know what you need and we'll get to work
Our 20 years of experience makes us the best option to solve your team augmentation needs ensuring a low failure rate
You'll meet qualified candidates who have already gone through our selection process guaranteeing their skills
Frequently Asked Questions
How fast can you find the best software engineer for my project?
Inisoft will present you with the first candidates within the first 72 hours.
Is LATAM an option for recruiting IT professionals?
Latin America is a great source for recruiting IT professionals for your team. In this region, you can find skilled technical talent in many areas due to their high level of education.
Do we need team augmentation?
If you have a sudden increase in workload because of a new client, you had a very successful product launch, or you don't have enough office space or more budget to hire more people, you can expand your team almost immediately. Team augmentation will allow you to take care of the new tasks that need to be done.
Is Inisoft's model right for me?
If you are in a hurry to assemble your team of programmers, we will take care of the process for you. Within 72 hours, you will be presented with pre-screened candidates without a recruiting fee and with a low failure rate. This model is perfect for you if you don't want to waste your time recruiting.
Hire Golang developers in 3 steps

Let's talk
We'll discuss your technical needs, requirements, goals, and team dynamics to find the right React Native developers to add to your workforce.

Review candidates
We present you with the pre-vetted candidates that match your company's culture and that will help you boost your projects.

Get to work
Choose the software engineer that matches your criteria and get to work!